Bob Seibert's RV-6
Georgetown, TX
A few words from Bob...
This is a picture of my RV-6 N691RV taken in April of '94 at the Georgetown, TX municipal airport. We just taxied off of runway 29 into a sea of Bluebonnets. I recommend it highly for a good place to get an airplane picture in March or April time frame.
N691RV first flew in Oct '92 it has 400 hours on it. It has a 150 HP Lycoming and drinks Mogas. It is day/night VFR with a full Gyro panel, Com, Transponder and Flybuddy GPS. It has been used for serious cross-country work and limited aerobatics. It has been as far west as California, as far east as Eluthera Island, Bahamas and as far north as Iowa. We have plans to get to the Northwest AND Oshkosh this coming year. It performs slightly better than the published numbers using a GPS to get accurate readings. Diane and I are having a ball with it!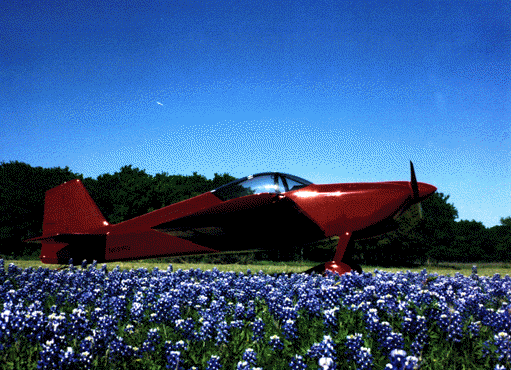 ---
Comments or feedback, please send to jhovan@swbell.net