John Hovan's Biography Page
This is a picture of my dog named Max and I. Do you want to see a picture of my maltese named Linus?
---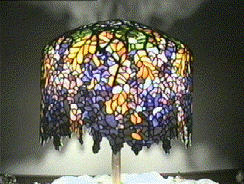 This is a Tiffany Wisteria Stained Glass Lamp Replica I completed on December 8th, 1994. It is comprised of over 2200 pieces of glass and took me 3.5 years to complete. Original Wisteria's sell for $100,000 to $500,000 if you can find one. A replica like this can fetch $10,000 to $20,000. Yes, I am very glad this project is finished! Note: The lamp is pictured with a base I welded together. A replica of the original base is being ordered.
---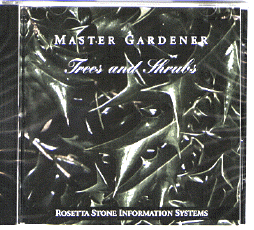 This is the cover of a gardening CD I created for the Macintosh computer. It is currently sold through selected software stores.
---
This is one of the toys you have to sell when you get married and try to buy back when you get divorced! This is an '85 Corvette with computer race chip, Monza exhaust, Gotti Rims and Greenfield spoilers. The most exciting car I have ever driven!
---
Current Activites...
John Hovan completed his Bachelor of Science degree in Electronics and completed his MBA degree at the age of 22 at Bowling Green State University. He now works for Apple Computer. Before coming to Apple, he worked for a small computer consulting company where he assisted in installing the Governor of Michigan's Apple Macintosh network and worked with the executive staff of Domino's Pizza Inc. along with various other companies. Once at Apple Computer, he worked in Technical Operations group which supports the dealer channel. Six months later he was chosen to startup the Hi-End CPU phone support team in Austin, Texas. Today, he serves as an analyst with the Customer Services Division designing web based, database reporting systems. John is also responsible for reporting Apple's warranty financials to the executive staff, engineering, marketing and several other groups within Apple.

When John isn't burning the candle writing reports, you will find him flying over beautiful Austin in an airplane, building Tiffany stained glass lamps, scuba diving, brewing beer (God Bless Jimmy Carter!), riding his motorcycle, camping, playing pool, gardening in his greenhouse, playing racquetball or attending the Chapter 187 Experimental Aircraft Association monthly meetings.
---
John's Favorite Quote...
"As I grow older I stop listening to what people say and start watching what they do."
Harry Truman

---
The Tiffany Lamp images and self portrait above were imported from a JVC GR-SZ1 S-VHSC video camera and processed with a stock PowerMac 8100/80AV Risc Computer manufactured by Apple Computer.
The CD Cover and Vette were scanned with an Apple Color OneScanner.
The information on this page is for my own indulgence and does not necessarily represent the beliefs or products of Apple Computer, Inc.
---
Comments and feedback welcome, please send to... hovan@flash.net