Don Wentz's RV-6
Scappoose, OR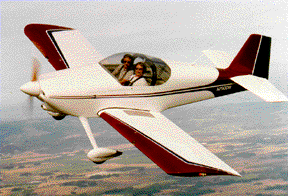 N790DW up close during a photo shoot for the '95 Van's calendar. Van was strapped into the open door of his Bonanza taking the photos, his brother Jerry was doing the flying while I sat there observing from the left seat. Tight formation flying is not yet my forte! Sadly, N790DW didn't make the calendar, but you can recognize several other very nice RVs that were photographed the same day that are in the '95 edition. Thanks to John Hovan, for putting the photo on display here.
---
A few words from Don...
Above is my RV-6, N790DW, plans # 20369. The tail kit was purchased in 1988, but work didn't begin until July of 1990 (hence the N number). First flight was June 30, 1994 at the able hands of Mike Seager. My first solo in it was 2 days later.
Equipment includes: 180hp O-360-A2G, from which I removed the starter, alternator, and carb and replaced them with an automotive starter and alternator from Mark Landoll. The carb was replaced with an Airflow Performance mechanical Fuel Injection unit. All items are working very well. The panel has an extra inch of height at the bottom, was laser cut from my own CAD drawings, and includes true airspeed, horizon and directional Gyros, electric turn coord, 4 channel EGT and more, Flybuddy Loran, KX-125 Nav/Comm, KT-78A transponder with ACK encoder and ELT. Other equipment includes canopy lift struts, No center console for legroom and ease of under panel access, electric flaps, 3-axis electric trim (coolie hat for E & A on stick, switch for Rudder on panel), Flitesoft intercom (mounted behind roll-over bar) with PTT on both sticks, and full lighting with the Whelan 3-in-1 lights on the wingtips and prototypes of my Duckworks Landing Lights in the wings.
The prop is a Warnke custom design, departing somewhat from his 'high aspect ratio' design with larger cross section. The size is 73L x 72P, although he has just completed re-pitching it to provide slightly higher RPM. I originally intended to install a C/S prop, but decided not to spend the money initially so I used the C/S cowl with firewall recess and prototyped the short prop extension that Van's is now using as std on all -6 models (This eliminates having to source 2 cowl sizes.) At 1500lbs this provides top speed of 205mph true at 3000ft and 2550rpm. These numbers will change slightly with the re-pitched prop.
Travels: I received a waiver from my inspector and attended Arlington '94 with 17hrs on the hobbs! I was SO pumped being there in my own RV, the feeling is unrelatable, something all builders will get to experience for themselves. I had the 40hrs flown-off on a Saturday, and the following Monday Doug Miner (who put 300+ hrs of experienced help into my RV) and I took off for Oshkosh '94, flying wing for Dan DeLano in his RV-6 with Rion Bourgois as his co-pilot. Another unforgettable experience. Van's homecoming was certainly a highlight. I was also able to take my wife on a weekend trip into Idaho, then later a week long jaunt to several locations in California, including a night at Lake Tahoe. She now understands at least part of the draw of the RVs, very quickly getting used to the fast comfort of cross-country in the RV-6.
I was a 39 year old, 130hr TT PSEL when I first flew my RV-6. Although I was concerned about being able to handle this sporty airplane, I found it to be an easy transition and really enjoy it. The building experience was mostly enjoyable, although difficult at times with family and career demands. The effort was certainly worth it though, as my RV-6 is a beautiful, fast, wonderful handling joy to fly, even more so than I ever imagined. It must be. I put 133 hours on it from June 30th to October 28th!!!!
---
N790DW on the display line at the '94 Portland Rose Festival Airshow in Hillsboro, OR. Bill Benedict's RV-4 and the RV-6T in the background.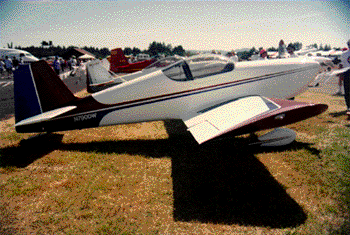 Photo courtesy of Joe Miller
---
N790DW at it's first Homecoming. My wife Janet and I unloading, with Doug Miner welcoming us. Notice our matching Oshkosh shirts.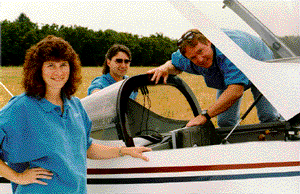 Photo courtesy of Randall Henderson.
---
N790DW in showplane camping at Oshkosh 94. From left to right Rion, Doug, Don, and Dan. .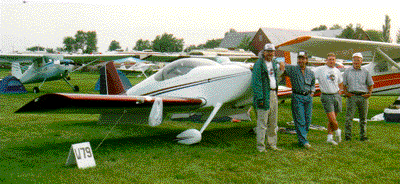 Comments and feedback welcome, please send to... jhovan@swbell.net