Terry Dyer's RV-6A
Tomball, TX
A few words from Terry...
N294RV was completed Feb. of 1994 ( 2-94) . My father Jack and I worked hard almost every week day 6-10 pm and all day on weekends for 11 months to complete it. It now has over 200 hours logged and all the building time seems well spent. I was a student with only 25 hrs when I first soloed it. I took my check ride and received my private certificate with a total time of only 45 hours.
It is day/night VFR with Gyros, Com, Xponder and Flybuddy GPS. It has been used for cross-country and limited aerobatics. It has been as far east as Florida and just returned from Oshkosh. We have plans to get to the Vans Homecoming in North Plains next year.
Engine: Lycoming IO-320 E2B (160 hp) with Inverted oil system
Propeller: Wernke
Empty weight 1040 lbs.
Cruise 160 Kts. @ 8 Gph
S/N 22485
Terry Dyer...
To the stars...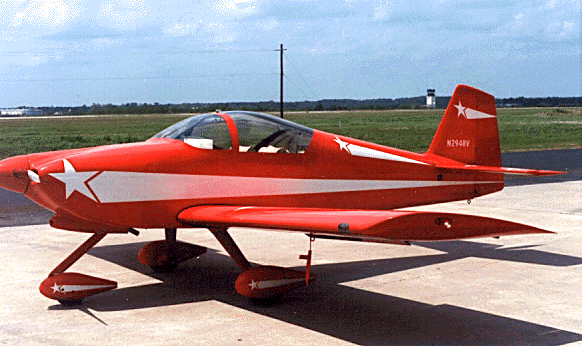 Send feedback to Terry on his plane... dyer@edlmail.jsc.nasa.gov
Comments and feedback welcome, please send to... jhovan@swbell.net